COMING APRIL 26 and 27, 2014
Tony Lawton's adaptation of  The Great Divorce by C.S.Lewis
in a one-man show.
 COMING THIS MAY: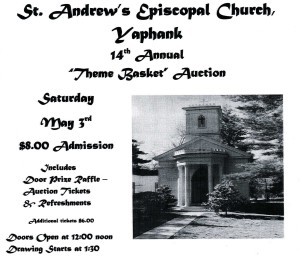 14th Annual Theme Basket Auction
May 3, 2014
St. Andrew's Church is an Episcopal Church located in historic Yaphank, New York. It is part of the Episcopal Diocese of Long Island and was built in 1853. The Holy Eucharist Service is celebrated Sundays at 8:30AM and 10:00 AM Please join us for the Fellowship Hour after the 10:00 AM service. (View the Fellowship Hour Host/Hostess Schedule  and Altar Guild Schedule here. )
St. Andrew's Episcopal Church
East Main St.
PO Box 249 Yaphank, NY 11980
Fr. John Morrison


info@standrewsyaphank.org


(631)924-5083
Directions/Map
Click here to subscribe to our Email List.
Services have been held regularly at St. Andrew's since 1853 St. Andrew's has been placed on the National Register of Historic Places and on the New York State Register of Historic Places.